The SmartMill Smart Robot: Robotic Innovation for Increased Productivity in the Wood Industry.
Boost the productivity of your sawmill or planing mill with the SmartMill Smart Robot, an automated solution for the wood industry. Designed to tirelessly perform repetitive tasks, the Yaskawa Motoman robot enhances your production volume with precision and speed.
This robotic technology is built to withstand challenging environments and is impervious to dust, sawdust, and moisture. With capabilities of up to 10 cycles per minute, it handles, processes, stacks, unstacks, and sorts wood more efficiently than any human operator.
The Smart Robot provides a solution to the shortage of skilled labor in the wood industry. With its ultrasonic sensor, it precisely controls the distance between the gripper and the wood layer, optimizing the production process and reducing the risk of damage. The Smart Robot technology is your key partner for a more agile and productive wood industry. This system can be used in any lumber operation such as : Sawmill, Planer mill, Pallet manufacturers, etc.
The Smart Robot is available with 4 or 6 axis and may be used for multiple applications (stacking & unstacking, line feeding, breakdown station, block handling, tilt hoist, etc.) and with different type of materials such as plywood, rough green wood boards, OSB, Pallet and so much more.
The Smart Robot is an easy-to-use system with a fast ROI (return on investment) that can increase your production, or that can fill a gap in a hard manual task for human operators. This allows the company to redistribute operators to another value-added operation in the mill!
Why our customers chose the Smart Robot
Benefits of the Smart Robot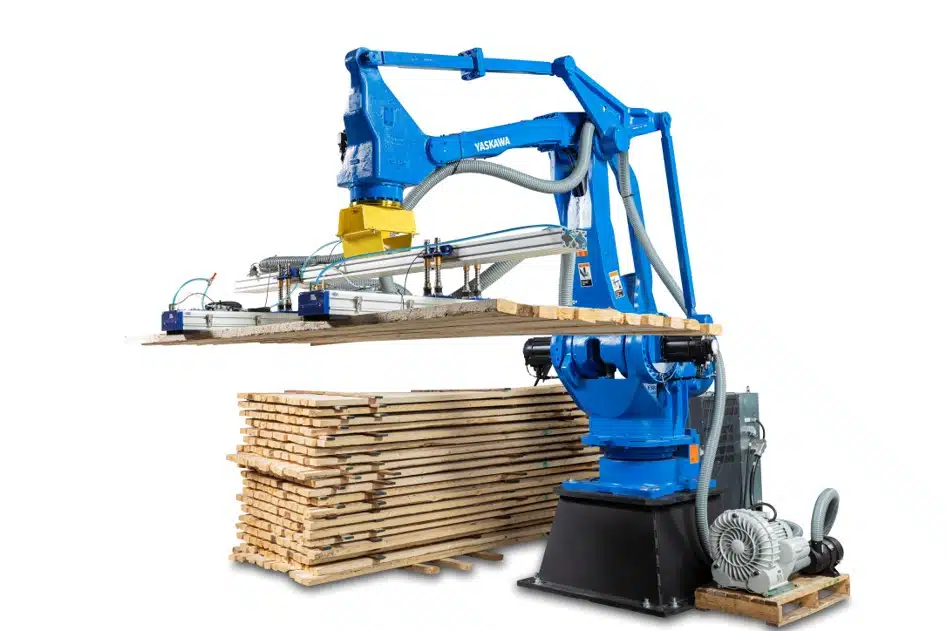 Applications of the Smart Robot
Do you have some questions about the Smart Robot?