An innovative wooden headquarters
Our state-of-the-art facilities in Lévis, Canada, showcase our expertise in automation for the forestry and manufacturing industries.
We designed our headquarters to showcase the use of wood, the raw material that we passionately transform to help our clients achieve their efficiency and productivity goals.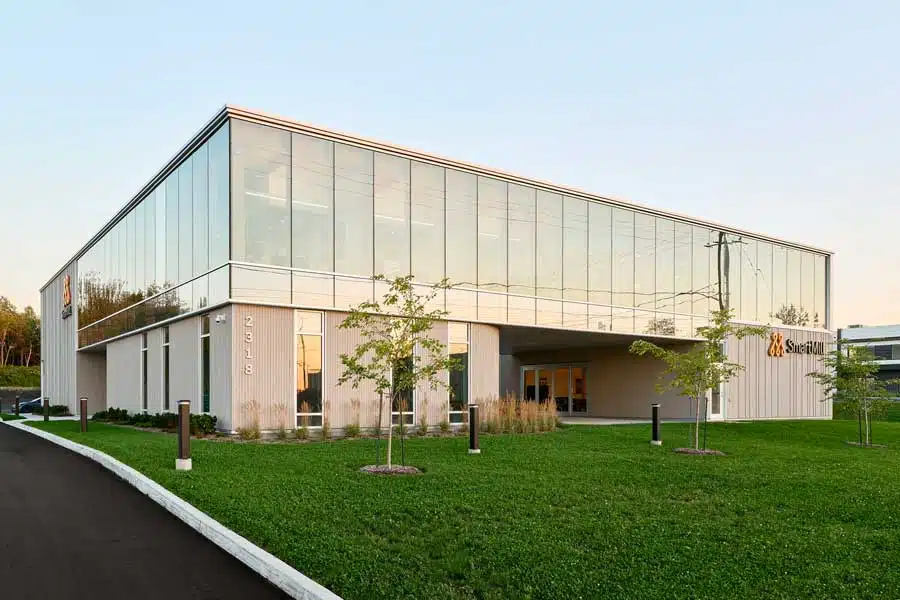 Innovative wooden factory
The building features a glued laminated wood structure and an eastern cedar cladding. The rear section is reserved for the factory, a large and spacious area free of columns to accommodate an overhead crane.
Covering this section posed a challenge that we met with prefabricated wooden trusses, whose upper part forms an arch.
Sleek design for a wooden structure
The administrative section, on the other hand, spans two levels and is centered around an inner courtyard. The wings are thin and transparent, while the second level spans over the entrance to the courtyard like a bridge.
Wooden posts regularly spaced support the roof and the glass panels.
State-of-the-art facilities for sustainable performance at SmartMill
Our facilities were designed to meet the highest operational requirements while reflecting our commitment to the environment.
At SmartMill, we are proud of our innovative products and services, our dedicated team of experts, and our environmental mission. We are here to help our clients reach new heights of performance, productivity, and profitability.